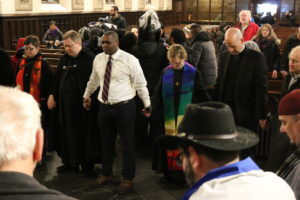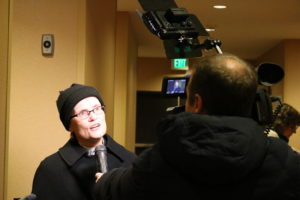 Mtr. Diana joined with other clergy to once again stand beside a grandfather who was facing deportation after 25 years in this country – raising a family, owning a home, and paying taxes.
At left top, Archange Antoine, of Faith NJ, leads the clergy in a prayer at the end of the day.
At left bottom, Mother Diana, ready to head out into the snow for the march, is interviewed by a TV station.
Below are links to some of the coverage:
http://www.nj.com/essex/index.ssf/2017/03/catalino_guerrero_immigration_hearing.html
http://abc7ny.com/society/grandfather-facing-deportation-gets-stay-after-clergy-support/1794483/
New Jersey Man Facing Deportation Gets Extension
http://www.fox5ny.com/news/240782850-story
http://www.nbcnewyork.com/news/local/Deport-Grandfather-Illegal-Mexico-Catalino-Guerrero-Rally-New-Jersey-Cardinal-Tobin-Menendez-415890323.html