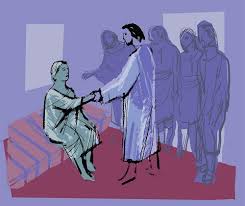 February 4, 2018: May God's words alone be spoken, may God's words alone be heard. Amen.
I was home the past several days using some comp time built up over the crazy month that is the typical January for me, and so I stayed home and was binge watching stuff I hadn't had time for, catching up on my audible book "The Brothers Karamazov" (I'll likely still be listening to that one a year from now), and noodling around on the computer. And I came upon a story told by a woman who is a story herself.
It was the Rev. "Fleming Rutledge, […] an Episcopal priest, and now an author, theologian and preacher. Ordained to the diaconate in 1975, she was one of the first women to be ordained to the priesthood of the Episcopal Church."[1]
Anyway, Mother "Fleming, in a sermon delivered at historic Trinity Church in the City of Boston, tells of an incident in her life that happened as she was "crossing the street near my parish in New York City. A taxi came roaring around the corner and knocked me to the pavement. A crowd gathered and the ambulance was called, but it took an unusually long time to arrive. It was 40 minutes before I was actually put on the gurney. In the meantime, I lay on the asphalt. I was aware of a lot of people standing around looking down at me. What I remember most about that long wait was the great distance between me on the concrete and the faces high above. In those minutes I very much needed someone to get down on the ground with me, to put a coat under my head, to hold my hand and stay down with me until help arrived …. Love comes down"[2]
"Love comes down."
Some of you know that before I felt called to the priesthood, I was quite sure that I was called to the diaconate. The deacon is the oldest of the clerical orders, and is, despite what some may think, a full and equal order to the priest. No matter the many times people would say "are you sure you aren't called to the priesthood," I kept my focus squarely on διάκονος – the Greek root of the word from which we get deacon. It means to serve – the very essence of discipleship – so why wouldn't we all cling to this as our call, right? It is used in the gospels to describe the way that we are to serve. And, it is used in the gospel today too.
This is the second story the author of Mark thinks is so important to tell about who Jesus is – and it is another healing story. In this one, they are at Simon and Andrew's house, and Simon's mother-in-law is down for the count – she has the H2N3 flu of her day, and was no longer able to do anything. She was in bed and very weak. Jesus "..came and took her by the hand and lifted her up." He healed her. And then here's the thing – she got up and began to serve them.
Now, not for nothing, but that isn't exactly the first thing most of us would do after being so sick right? Though parents through the ages, mothers particularly, might argue that whether or not they want to – it is often what happens. And sadly, some see this as pointing to a diminished role for women, and I understand that, I do. But if you pay attention to this gospel, if you really look at what happens in it and how it is constructed, you will find that the author doesn't include anything superfluous. See, the thing is, the bible authors (being mostly men), don't include a lot of stories about women, so when they do, there is a reason for it, and we need to pay attention to it. This is especially true in this gospel that is always in a huge hurry to move us from Jesus' baptism to his resurrection in as few words as possible (except this author does use the word 'immediately' a whole lot!).
And, this gospel makes one thing absolutely clear – that the men nearest to Jesus just don't get it, but the women and the outsiders do. They understand who he is better and earlier than the chosen 12 – even the demons got it, as we see here when Jesus keeps them from speaking because they knew who he was. Okay, it's that is the crazy Messianic secret thing that makes this gospel kinda fun, but back to the unnamed mother-in-law of Simon. Reading into her serving them after being restored by Jesus some sort of notion of the inferiority of women says more about the reader than it does about the gospel, or Jesus.
So, this woman – dang it, I am going to give her a name… let's call her Dorothy (for Dorothy Day – another woman who served Jesus) – Dorothy was in this passage for a reason. And the reason is exactly what Mother Fleming was talking about too. That to serve as Jesus calls us to do, we have to get low and near to those unable to stand, and serving them as Jesus served. Love does indeed come down – not through self-abasement, but through humility.
You see, this wasn't about healing her to push her down. She was restored to her calling – and in that very way, was modeling the very discipleship Jesus modeled for his disciples – the Jesus who bent down low to the ground and washed the feet of his disciples – something only a servant would do. The word used by the author to describe this woman's actions were the same used by Jesus to talk about his own ministry "…whoever wishes to become great among you must be your servant, and whoever wishes to be first among you must be slave of all. For the Son of Man came not to be served but to serve…' (Mark 10:43b-45a).
This word for her ministry, her table service, in this passage is that same greek word – diakonia – Jesus uses to describe how we are to be. The word for Deacon – is the very embodiment of ministry. In fact, one of the role of deacons, if you don't know already, are the ones who set the table of Jesus, who wait at that table, who serve our communion meal, and who clean up afterward. So, not a lessening of her status at all.
Of course, there is no argument that for many women, then and sometimes now, this was what would expected, as opposed to a calling in how one might conceive of it – that is absolutely true. For many people, the choice of what to do in life is not always entirely their own, and that holds doubly true for the marginalized in our society, of which women sadly can claim to be a part – even today. Yet, if not by choice, then sometimes it is by circumstance, sometimes by diversion, that no matter what we are doing in life, we always have a calling – diakonia is always possible – we just might not realize it.
Now, I didn't watch this while on my comp days, but "Richard Dreyfuss in Mr. Holland's Opus is a slow-moving version [of this very thing. This movie, made a several years ago is about a man who] wants to be a famous composer, so, he takes a job [teaching music in a high school] as a "temporary gig" to make a little money until he can finish his opus. Opus – meaning "life work." He stays there against his will (but [deep down inside, he is] feeling fulfilled…) for the rest of his career. At the end of the movie, we discover that Mr. Holland's "opus" is actually his teaching career. It was his calling; he denied it to the end and then discovered he'd been living it out without even realizing it."[3] The movie was a call story.
And Dorothy's story is one of calling too. Jesus saw her, touched her, renewed her to new life, and in that life, she served him. They say that this oldest order started after the resurrection in Acts 6, when the disciples called others to serve in the ministry to the poor and hungry. But, I would argue that it begins here – in this earliest of the gospels – in this second healing that Jesus does in his ministry – here, in this woman. She is the first Deacon of the church.
But here's the thing about living this life of diakonia, of service, it will get us feeling like our proverbial Dorothy from time to time – flat out in bed in need of renewal, restoration, love, rest. Even Jesus needed it. Perhaps the most important part of today's gospel is that Jesus sneaks out during the night to get away to pray. The work there wasn't all done. There were crowds still hoping to be healed. But Jesus knew that he needed down time, he needed restoration and renewal, and he also knew how to find it. He prayed. He prayed, and he did his ministry in community. He didn't try to do it without the support of his disciples. And…here's another neat twist…he also didn't go back to the same town afterward. After he got that rest and renewal in God, he left that work undone. Sometimes, even Jesus had to leave things for others to do. He didn't go back, he said "Let's go." Let's continue our work in the neighboring towns.
This gospel story reminds us that Jesus raises up – overturning that which possesses us or holds us back – restoring us to our health, our life, and then… he invites us to serve. It also reminds us that sometimes we just have to say "no" to what others implore us to do, and leave it for another time or another person. We have to take rest, and allow God to restore us, or we will be of no value to anyone else.
Remember, I started this whole sermon talking about my having taken comp days last week after going nearly non-stop in January. That is always the case in that month, given the Annual Parish Meeting and Diocesan Convention, but with two funerals as well, I had not had but a day or so off the entire month. I was starting to really fade, and I knew I would be of no use to you if I got sick. So, I stopped my work and took my rest. Now, if you have ever seen my office, or took a glance at my email inbox (with over 300 unread messages at that moment in time), you'd know that I didn't do this because all my work was completed – if only. But, I knew who I was in the story at that moment, and I knew what God needed me to do.
So, here's the thing…who are you in this story at this moment?
Are you the one needing rest, to be healed, or to be seen, or loved, or comforted (as Mother Fleming craved the day she fell, as the woman in our gospel needed, as Jesus needed)?
Or, are you the one who has been restored and now needs to serve? The promise of restoration is the promise of participation in God's work.[4] It is the promise Jesus gave to us all – it is our call – our life.
Which are you today? Which are you this week?
If you are in need of restoration, you are in the right place. Here, in this place, among your parish family, you will find the love and support of community. You will be able to pray, to take time away from the insanity of daily life, to rest. And you will be nourished with the body and blood of Christ – which will renew you with the promise of God's all abiding grace and love. Take the time you need here – everyone is welcome. What else do you need? How else can we, as the body of Christ, help you? How can you make that known to us (because we aren't mind readers – we need you to tell us what is happening)? Or is it just that you need the space to sometimes say no, like Jesus – even to work here in the church. Lord knows, there is much work that happens in a church, and sometimes the few do the work of many. So, perhaps that is how we can help, by giving you the space to say "no", and by stepping up and lending a hand.
Perhaps instead, you are feeling restored and renewed at this moment. If that is true, then you too are in the right place. Being here in community will sustain you too, as it is then time for you to serve the Christ that is in the world. You see, that is the promise given to you in the body and blood Christ – to strengthen you for the journey ahead. Where do you plan to go? What do you plan to do? Who are you going to serve? Notice, he didn't always expect folks to come to him, so if you can't answer those questions now, perhaps the thing to just say is "Let's go!" and figure it out along the way with God's help.
Who are you today?
Likely, many of us will be a little of both. Needing rest and restoration in God's love, and feeling restored and ready to live into the possibility of our lives too. I think that is why many of us are here – we are seekers – we seek something – restoration, renewal, calling, a place to serve, a place to discover who we are, and to live that out in the world. That is why we come here, because that is who we are, and what we need.
The story of Jesus, the gospel, is the story of God at work in the world – our world – restoring and renewing us with love and grace, that we might live the promise of our lives – that we might join God in Her healing work – being the eyes that see, the hand that touches, the knees that bend to be near, the heart that serves – the very image of the servant Jesus exemplified for us. God is love – and love comes down – and we must do so too.
This season of Epiphany is drawing to a close, and in it, we have come to know who Jesus is…and who we are too in this cosmic story of God – our story.
Who are you today?
The answer will lead you where you need to be – for yourself, for the world, for God.
Amen.
For the audio from the 10:30am service, click here (or subscribe to our iTunes Sermon Podcast):
[1] https://en.wikipedia.org/wiki/Fleming_Rutledge
[2] Fleming Rutledge, "The Love Olympics Go to Jerusalem," February 22, 1998
[3] homileticsonline
[4] Sermon Brainwave – from one of the podcasters thoughts.
Rev. Diana L. Wilcox
Christ Church in Bloomfield & Glen Ridge
February 4, 2018
Fifth Sunday After the Epiphany
1st Reading – Isaiah 40:21-31
Psalm 147:1-12, 21c
2nd Reading – 1 Corinthians 9:16-23
Gospel – Mark 1:29-39