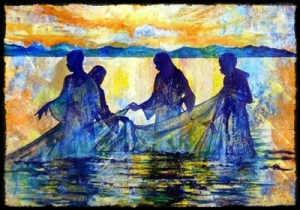 January 21, 2018: May God's words alone be spoken, may God's words alone be heard. Amen.
Well, good morning everyone!
Yesterday, while working on my sermon, I was enjoying seeing all the Facebook posts by friends and parishioners who marched across our cities in the second round of Women's Marches. Like last year though, even while I had looked forward to marching and planned to be there, I was not able to go, but seeing these photos, I felt like I was there – like our church was there – and I was so very proud to at least be a part of it through my parish family. I was not sad to have to have missed it, because it was also my parish family that called me to other things.
This past Friday, I received the call that George Fay had died. George is the father of Russell, who with his wife Katie is often seen here on Sundays with their little girl, who attends our Nursery School. George has often been on our parish prayer list. After spending the day with the family, I realized on the way home that it was January 19th, the fourth anniversary of becoming the Rector of this parish – four years of being your priest. To my mind and heart, it felt a poignant synchronicity to have spent that day being with the Fay family, as there is perhaps nothing more sacred to a priest's heart than to humbly serve a member of our parish family in this most tragic time. We pray for all of them.
And the next day, yesterday, the first of my fifth year, came the news of a new member of the parish. Amy McAllister, one of our vestry members, sent me an email saying "Just wanted to let you know that we will not make the annual meeting tomorrow. We'll be attending to the newest parishioner: Henry Snow McAllister. Born January 20th at 2:16pm. 20.5 inches and 8lbs 12oz. Kelly and Henry are doing great!" Well, we certainly wish Amy and Kelly well on the birth of their new child, and also our congratulations to their other children, Aidan and Marian, who just got a new baby brother. Blessings for this new addition to their family, and on all of them.
Death comes to one family in our parish, while life comes to another. From death into life! Being part of a family – part of this parish family – is an amazing thing. We celebrate joy and care for one another in pain. And yet none of it would be possible if we didn't take a risk to be part of something greater than ourselves. Truth be told – that is the very foundation of things that will change our lives, isn't it. That we take a risk – that we say "Yes!" to the possibility.
And that is what we hear about today in the gospel. Jesus is walking along the sea of Galilee, and he calls out to four people: Simon, Andrew, James, & John to drop their fishing nets and follow him. They were to leave all that they knew, risk everything, to form a new community – to be a part of something important.
What made them do it?
I think it was the words Jesus had been saying all over town. The gospel passage starts first with this: that "After John was arrested, Jesus came to Galilee, proclaiming the good news of God, and saying, "The time is fulfilled, and the kingdom of God has come near; repent, and believe in the good news." It is tempting to just talk about the boys in the boats, as though they had never seen this guy Jesus before. But if you really think about it, word travels fast in towns. Sure, they didn't have the internet, but word still moved quickly – even then – about important or unusual things. And one thing I can pretty much guarantee they had heard about was that itinerant preacher who wore camel's hair tunics and ate bugs in the wilderness – John, the crazy guy who baptized hundreds and preached about repentance – he had been arrested. Along then comes Jesus saying something even more radical…so why would they risk everything to follow him, especially knowing what happened to that other guy, John?
"The time is fulfilled, and the kingdom of God has come near; repent, and believe in the good news." Now, let me translate what they likely were hearing if heard in their language – "The time of God is now – here – turn and have a change of mind – prepare for the new reality." These early followers saw an opportunity to be a part of something life changing – for them – and for all the world. They wanted to be a part of it. It was a risk. They were literally casting off all they knew to step into a possibility, a hope. They were willing to prepare for a new reality.
In some ways, like those disciples, four years ago, we all stepped forward and took a risk together – to go and follow the Holy Spirit. Back in 2013, when this parish was in a search for a new Rector, there was also the prospect that if something didn't change, this church would have to close its' doors in the summer of 2015, as the funding available would not be able to meet the operating needs of the church and the nursery school. This parish was fishing for answers.
Now, you could have hunkered down and done nothing until funds ran out – some churches do you know. You didn't. You said "Yes!" to the possibility, and took a risk on me, and I on you as well – and together – guided by the Holy Spirit and given strength in Christ, we stepped forward into a new and far more promising future. Christ allowed us to see a new reality was possible, and we set our minds on it – on Him!
But wait, there's more…as we began our work together, we realized that both the church and the nursery school were hampered by space challenges, and that if we would be willing to risk some of those precious funds – the ones we rely on for support of our parish – if we would take a risk and spend a large sum of it to reengineer our spaces – it could open the doors to new life for both our church and our school. We said "Yes!" once more.
We took risks together – trusting in the Holy Spirit – and the result has been amazing for us, for the community, and for the good news of Jesus Christ.
In the past four years, we have grown our Sunday School and offered Vacation Bible School to our community. We have baptized 18, and in just the past year welcomed 10 more new people into our church family. Our church has become a core of our local community – our spaces now being used by music programs, outreach groups, service organizations, and civic groups. Our outreach grows more each year, with this past year resulting in a fundraiser that allowed us to write a check for over $12,000 for hurricane relief. Our choir has grown by a third, now offering two phenomenal services yearly – Advent Lessons & Carols and a Lenten Evensong, and our church hosts at least one music event each year (this year and last being a concert by the Rutgers University Chorus).
We have not closed our doors, rather, we have grown each and every year – a total of 30% in fact! Even with our downturn in regular attendance last year, which many churches experienced as well, we still have added members to our beautifully diverse parish family this year. They, in turn, have brought their unique gifts into our lives, and we are blessed by them, and they by the rest of us.
You see, that's the thing about who Jesus called. He brought together people from all walks of life. He brought them together to work with him. Jesus didn't do this work alone – he surrounded himself with a team. A group of diverse folks – men, women, fishing folks and tax collectors, and so on. Why? Because God's work is best done together, together with Christ as the center.
And that is who we are too – a group of diverse folks who come together here – to be a part of something greater than ourselves – to cast aside the nets of life that seem to want to hold us back, and to step boldly forward as a team – as a parish family – into a life that has meaning and purpose – into the world with Jesus as our foundation, and the Holy Spirit our guide, joining God in the work She is doing in the world.
We are not yet on the mountaintop, but we are climbing ever closer to that place where our vision will be realized, because we opened our hearts to possibility, took a risk, and prepared for a new reality for this church and for our spiritual lives.
And because of that, together with Christ, like those disciples of long ago, we can make a difference in the world – we already have – and we only need to keep moving forward together to realize all that is possible.
Amen.
For the audio from the 10:30am service, click here:
Rev. Diana L. Wilcox
Christ Church in Bloomfield & Glen Ridge
January 21, 2018
Third Sunday After the Epiphany
1st Reading – Jonah 3:1-5, 10
Psalm 62:6-14
2nd Reading – 1 Corinthians 7:29-31
Gospel – Mark 1:14-20