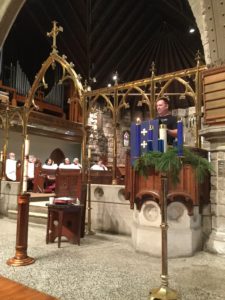 [Our guest preacher is Mr. Jeffrey Stanfill, a chorister in our parish. For a complete bio, see the bottom of this post. Please note, the recording was not turned off after the sermon, so it looks longer than it was. Also, the introduction prior to Jeff's sermon is not audible. Jeff begins approx. 1min. into the recording.]
Good morning everyone and a very happy Thanksgiving to you all. I hope you all enjoyed this very special holiday time. My partner and I were in Mount Gretna, PA with my family for 3 days and had a wonderful time enjoying each other's company and way too much food!
I am thrilled to be here today. I want to thank Mother Diana for asking me to speak today, but I have to say I was a little shocked when she asked me to preach and I wondered "Why me? What do I have to say that would be meaningful or helpful to someone on a spiritual journey to developing a close relationship with God?"
Turns out I have plenty to say so here it goes:
I am the son of a Southern Baptist minister and a school teacher mom. Both of my parents are alive, healthy, remarried and retired. My dad has been here on two occasions and he loves this church, Mother Diana and all the people he met here.
My father was an evangelistic minister in the southern Baptist Convention, which meant that we moved around a lot to various churches, mostly between Texas and Tennessee.
I have 3 brothers who loved sports including, football, football and more football, camping,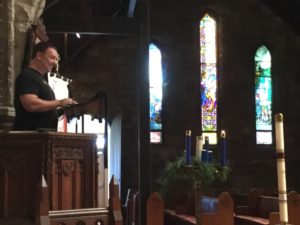 hunting and anything outdoors.
I on the other hand prefered to stay home painting, drawing, sculpting or making home movies with my Kodak ectasound movie camera. I really aged myself with that comment.
I specialized in making Dracula movies. I was definitely the black sheep of the family and while my dad might have wondered if I was possessed running around the house dressed like a vampire, Mom encouraged my artistic side, never wondering why I didn't like sports.
As a preacher's kid, I loved church and especially choir. I struggled with my weight when I was a kid as I still do, and had greasy hair and braces. I wasn't popular in school so Choir was my refuge. It was the one place I felt I could be myself without being judged.
Singing was something I excelled at and our choir director would often ask me to sing solos on Sunday morning services which I happily obliged.
When I was 13 I joined the adult choir and began to feel that this singing thing was something I could possibly do as a career. I spent many hours in front of a mirror with a fake microphone I built from a stick and a tennis ball.
At this time my dad was pastor of a fast growing church in Germantown, Tenn.
Germantown was a wealthy, incorporated town just on the outskirts of Memphis, Tennessee. There were vast horse farms all over the place and I fell in love with horses and joined a show barn where I purchased my first hunter named Old Henry. Old Henry was a retired show jumper from the United States Equestrian Team and he made the perfect first show horse for me.
I became heavily involved in the horse show circuit showing Hunters and Jumpers all over the country with a group of very talented, very rich and very unsupervised teenagers. In fact we would often drive hundreds of miles from one horse show to another with no more than a 20 year old chaperon, and a couple of grooms for the horses.
Alcohol was very much a part of the scene and since there was not a lot of adult supervision, you can imagine that drinking was more than out of hand. We were all like kids in a candy store. We called ourselves the Desperados named after the famous song by the Eagles.
Horses, horse shows and the friends I made in the horse show community became my sole focus and music began to take a back seat. At the same time my dad's church was growing fast and I was happier than I could imagine. And then the unexpected happened.
I came home from several weeks of being on the road with horse shows only to find out that my parents were filing for divorce. My whole world seemed to be falling apart. My family was broken, I had come to the realization that I wasn't talented enough to make a career as a professional equestrian. I also began to accept the fact that I was gay and I no longer had the refuge of choir to retreat to. But I knew in my heart that singing was something I could do for a living.
After my parents divorce, I enrolled in college at Florida State University as a voice major which a the time was considered one of the biggest party schools in the nation.
I began drinking heavily on the weekends while I was a student there and surrounded myself with party people. After Florida State I moved to Boston, Mass to study with a voice teacher there. I became almost completely estranged from my family and from God while I lived in Boston.
I was an out and proud gay man and found myself suddenly in the "in crowd" of the Boston gay scene. I was performing constantly and was having some of my first successes as a singer. It felt good to be recognized as entertainer and to develop a sense of community which I hadn't had since my horse show days.
Eventually I wound up singing on cruise ships with Norwegian Cruise Lines and was making a name for myself in the cruise ship industry. It was an exciting time of my life and yet the drinking continued and got even worse.
It's important to mention that although I was estranged from my family at the time, I was seeking counsel with an amazing friend named Dr. Michael Applebee. Dr. Applebee was an executive life coach at Schwab investments, and he was brilliant at helping you see your weaknesses and obstacles. He was the first person to suggest that my drinking was turning into a real potential long term problem. I knew it was too, but drinking was the only way that I could anesthetize the pain of being isolated from my family.
The turning point in my life came shortly before the 9/11 attacks. In August of that year my contract was up with Norwegian Cruise Lines and the entertainment company that hired me asked me if I wanted to stay on for another 6 months. I turned the contract down and decided to give NY another shot, so I found a roommate, a bartending job and said goodbye to cruise ships.
I'm sure most us of remember where we were on 9/11. I was on the verge of landing a big entertainment contract. After the attacks of 9/11, work in the entertainment industry dried up and the contract offer was gone as well. There was practically no work as an entertainer anywhere.
I was soon bartending 5 to 6 nights a week and my drinking got even worse. The whole world seemed empty and meaningless and I had no one to lean on other than the people I worked with in the bar, who were equally if not more empty and depressed than I was. Months passed and I was spiraling down a deep dark hole of sadness and despair.
I have always used life-lines when I needed help. These are people that I call, sometimes out of the blue for life advice.
I hadn't spoken to Dr. Applebee in many months and I decided it was time to get some life coaching from him. He could tell I was at my wits end on the phone and after some uplifting conversation sprinkled with a heavy dose of laughs, Dr. Applebee gave me the best piece of advice I ever received.
He said "Jeff, I want you to get down on your knees and thank God tonight". I said "THANK GOD? WHAT FOR? My life is a complete disaster right now". He said "But you're alive aren't you? You could be dead as much as you have abused your body".
I agreed to try it. What have I got to lose.
That night I got down on my knees and prayed to God to give me a sign that he was real and that he still cared for me. As I was praying I suddenly felt a hand on my back. It scared me so badly that I let out a loud yell and turned around. There was no one there. I figured it was just a strange coincidence or body twitch. I started to pray again and as I prayed I felt what could only be described as a huge set of arms surrounding me with love. I began to cry and cry uncontrollably. I think I cried for 24 hours straight.
The next day I went to work at the bar. It was a Saturday night and the place was packed. I was in the front bar with my favorite fellow bartender and we were doing shots with the customers and making drinks so fast I could barely breathe.
The music was blasting and customers were lined up 7 to 10 people deep at each ordering spot.
I noticed someone had their hand raised out of the corner of my left eye. He was jumping up and down and motioning for me to come over to him. This was not the time to break my stride as I had several drinks going at once and people were getting impatient to be served. But he was persistent and apparently really needed my attention so I went over to him and he grabbed my shoulder and pulled me close to him and as he did the whole room went silent. People were still clearly taking and the music was still playing but it became muffled. The guy looked me straight into my eyes and said "Why are you so empty and sad?" I pulled away, surprised and bit startled and he dashed off. I went back over to the center of the bar and my fellow bartender said "What did that guy say to you? You looked like you saw a ghost!" I went home that night and prayed like crazy and cried some more!
I began to have clarity for the first time in my life and started to see that this prayer thing was working for me. I prayed for a renewed relationship with my family and within weeks we were speaking on the phone all the time. I prayed to get out of NYC and landed yet another bartending position, but this time in Provincetown, MASS. Now Provincetown may not have seemed like the best place for me to go as it is quite the party town, but it was there that I began to reestablish a relationship with God. Prayer began to open doors for me that I never dreamed possible and soon I was free from the bondages of alcohol abuse, singing opportunities came out of nowhere and I even met my partner of the past 13 years due to being consistent with prayer.
When my partner José and I moved to Montclair, New Jersey several years ago I prayed that I would find a church that would be open and accepting of all people regardless of race, gender or sexual orientation. I visited many churches in the Montclair area, never quite feeling at home in any of them. But I kept praying that God would open that door and allow me to find a church home.
I was in a Barn's and Noble bookstore one day and was looking for any book I could find on spirituality as I was determined to reconnect with God as much as possible.
Then I passed the magazine section and looked for any interesting magazine I could find on either science fiction or videography, two of my passions. I saw a Classical Singer Magazine in the sci-fi section and decided to flip through it. Now I had not looked at anything classically related for at least 10 years. As I opened it I saw an audition for a tenor section leader at this church. I wrote down the number, called Bill Davies and set up an audition. Within a week I was the tenor section leader and that was 6 years ago. God answered my prayer.
Prayer is a powerful tool to use along with Gratitude. I have made it a point to thank God every single day of my life for all the blessings he has bestowed on me, my partner, my family and this beautiful congregation.
I am grateful beyond measure for this church, the choir, Bill Davies, Mother Diana and the ministry here at Christ Episcopal. I am grateful that I am 14 years sober and have a loving partner who keeps me grounded and loves me flaws and all. I am grateful to the late Dr. Michael Applebee who taught me that prayer works as long as there is action behind it. I have seen amazing God's hand in my life on so many occasions it would be impossible to call any of it a coincidence. God is there for you. All you gotta do is pray, listen for guidance and take action.
Amen!
For the audio from the 10:30am service, click here (It is longer than the actual sermon, due to the recording not being turned off right away. Also, the introduction prior to Jeff's sermon is not audible. Jeff begins approx. 1min. into the recording.):
Bio:
The son of a Southern Baptist preacher, Jeff Alani Stanfill was born in Brownsville, Tennessee and raised in Memphis. His mother, a now retired elementary school teacher, encouraged his love of music and art, while his father guided him in spiritual development and a great appreciation for gospel music. Jeff sang in church choirs from an early age. He sang his first public solo on the radio at age eight, with his rendition of "Climb Every Mountain," from the "Sound of Music."
Music was the focus of Jeff's early life until he became involved with the riding and training of show jumping horses. Jeff toured the National Horse Show circuit until he was 18, at which point he realized that his talents were better served in music.
Jeff pursued a degree in vocal performance from Florida State University, and later attended New England Conservatory of Music in Boston. Although his time at F.S.U. and N.E.C. was focused on Classical music training, Jeff also explored other genres of music including Musical Theater, Pop, and R&B.
Jeff became a frequent soloist in the Boston area. He also performed in various productions such as the "Gondoliers at the Boston Public Theater" and the "Pirates of Penzance."
Later, Jeff performed in summer stock productions at the Buck's County Playhouse, in New Hope, PA and eventually landed several contracts with Jean Ann Ryan Productions aboard Norwegian Cruise Lines ships. During the long contracts at sea, he began to expand his musical repertory by exploring new genres of music, Salsa and Latin Pop along with his rigorous schedule with Jean Ann Ryan Productions, which included eight shows a week.
Jeff with Maestro David Jones
In 1999, Jeff began his long association with Maestro David L. Jones in
New York. Mr. Jones' unique ability to help the singer understand the fundamentals of singing, as well as his knowledge of a vast array of exercises which create balance, beauty, and breadth of tone, helped Jeff develop a solid foundation to re-build his voice upon. Maestro Jones' technique also helped Jeff achieve versatility of sound. He can easily shift from a Classical sound to a Pop sound, or even a Rock or R&B sound with very little effort. Jeff is able to endure a rigorous performing schedule singing music from practically every genre.
Jeff began teaching voice soon after he mastered the concepts of the Swedish-Italian school of singing learned from Maestro Jones. He found that the vocal ability of his students progressed rapidly through the use of this amazingly healthy technique. Many of his current and former students now perform in national Broadway tours, in production shows located in Las Vegas and Atlantic City, as well as on cruise ships throughout the world.
Today Jeff maintains a very busy schedule teaching singers at his studios in New York City, West Orange, New Jersey and his online studio which reaches singers in all parts of the globe.
In September of 2017 Jeff taught a joint masterclass with internationally renowned, Grammy/Dove award winning tenor David Phelps at the Ripley Grier Studios in New York City.
This exciting class was designed to teach singers from the genres of pop, rock, R&B, opera and gospel the concepts and exercises from the Swedish/Italian vocal technique and to share Mr. Phelps secrets for maintaining a successful 25 year career and long term vocal health.
Pictured here with singer David Phelps
In addition to teaching voice in 3 studios located in New York City, West Orange, New Jersey and Fair Lawn, new Jersey, Jeff maintains a busy performing schedule singing with his band The Savoy Stompers as well as being the tenor section leader at Christ Episcopal Church in Glen Ridge, New Jersey.
To contact Jeff about voice lessons in person or via Skype, please write him at jeff@voicesoaring.com