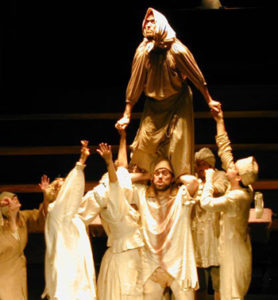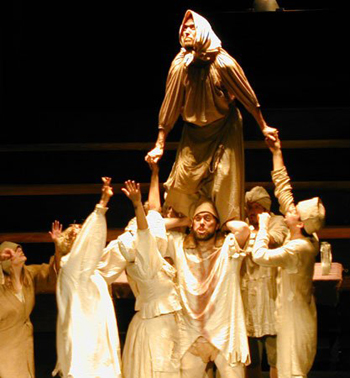 We are very pleased to welcome The Dzieci Theatre Group back to Christ Church! In Dzieci's living example of Holy Theatre, a group of medieval "village idiots" are forced to enact their own Mass, due to the untimely death of their beloved pastor. Bursting with buffoonery and comic audience participation, Fools Mass is balanced with lovely hymns and chants from the 8th to the 14th centuries, creating a seminal work that has been Dzieci's signature piece since 1998. This is their only New Jersey performance (they perform the rest in NYC, including at the Cathedral of St. John the Divine).
Check out this review by New York Theatre Critic Julia Hochner:
Here is what others are saying about this performance:
"Moving between the sublime and the ridiculous, drawing its audience through laughter toward participation and contemplation, the work resists being categorized as either theater or religion, becoming both at once in an event experienced by many as transformative."
– The Encyclopedia of Religion 2nd Edition –
"I am left burst wide open from the experience of the Fools Mass. Raw, grateful, and breathless from the inbursting of the Holy barely covers it."
– Brother Karekin Madteos Yarian, BSG –
"Fools Mass is such a rich exploration of human nature and our spiritual search. There is the constant flow between control and chaos, aloneness and togetherness, creation and destruction, the absurdly mundane and transcendent simplicity. The search for true contact without an intermediary leads us into a true spiritual connection within and between one another. It's a rich experience worthy of multiple viewings."
~ Matthew Purdon ~
Join us on Saturday, December 2 at 5pm for this sure-to-be spectacular performance! Tickets are $10 in advance, and $15 at the door.