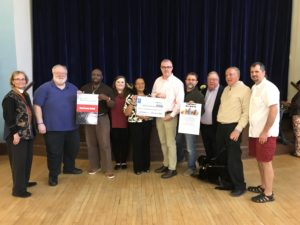 The American Scientist Margaret Mead once said "Never doubt that a small group of thoughtful, committed citizens can change the world; indeed, it's the only thing that ever has." The past several weeks have truly been an example of just how true this is, when the Vestry & Wardens of Christ Church voted to offer a 1 to 1 dollar match to raise funds for hurricane victims. Each year, a percentage of our operating budget is set aside for outreach, particularly in our local neighborhoods of Bloomfield & Glen Ridge. Usually this is split among a number of local organizations, but at the September meeting of the Vestry, it was decided to dedicate the entire Outreach budget of $5,200 to hurricane disaster relief.
The Rev. Bob Solon, who serves as the Director of Finance, suggested that the money might be used as a match, to increase donations. The Vestry & Wardens agreed, and the recipient would be Episcopal Relief & Development to support their efforts on behalf of those affected by these horrific storms. The call went out to the church and our Nursery School for donations, and we made it part of the way toward our goal.
But that wasn't the end of the story – far from it. Really, it never is, once the Jesus movement gets rolling. Out of this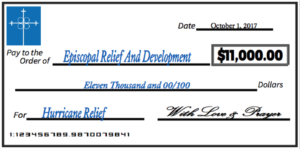 place, the call went out into our neighborhoods and the diocese, trying to fully meet the $5,200 we offered in match. The response was unbelievable! Parents of our Nursery School, people in our neighborhoods of Bloomfield & Glen Ridge who have never stepped foot inside this church, parishes and people from across our diocese – they all responded!
A miracle of love happened, and as of today, we will be sending a check to Episcopal Relief & Development for more than $11,000 to help those in need! A miracle of faith – all coming out of a small group of people who wanted to make a difference. We are deeply grateful to the following churches and groups for making this possible through their donations:
All Saints Leonia
House of Prayer Episcopal Church Newark
St. James' Hackettstown
St. James' Upper Montclair
St. Peter's Essex Fells
The Parents & Staff of the Nursery School of Christ Church
Our neighbors in Bloomfield & Glen Ridge
Our brothers & sisters in Christ in the Diocese of Newark
All donors will be noted in the letter sent with the check to ERD.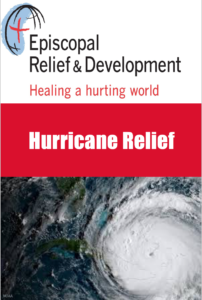 The storms have done such intensive damage, and there is much work to do. Working together we can be a powerful force of love and light in a time of darkness, because nothing is stronger than the love of Christ shining through the words and deeds of those who seek to love and serve in His name.