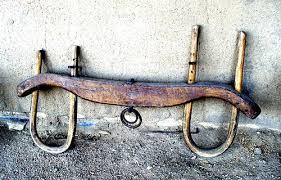 July 9, 2017: May God's words alone be spoken, may God's words alone be heard. Amen.
In this season of vacations, I think many count the days dreaming of some rest and fun – I know I am as I near August. And, I am reminded of something I heard once about a boy coming home from church one Sunday with his mom. He said "Mommy, why does the pastor get a month's vacation in the summer when Daddy only gets two weeks?" "Well, son," answered Mommy, "if he's a good minister, he needs it. If he isn't, the congregation needs it!" I won't ask you if you are also counting the days to my vacation.
All this to say that in the realization that summer is basically half over already, we have this gospel passage, and it always reminds me of Compline. Of our daily offices, the services we can do privately or corporately contained in our Book of Common Prayer and drawn from the monastic offices, I love the last one before retiring – Compline. We do it sometimes at the close of our Vestry meetings, we do it on Wednesday nights, and Diocesan Council meetings close with it too. It is a short, contemplative worship that includes the prayer many hold dear, which begins "Keep watch, dear Lord, with those who work, or watch, or weep this night, and give your angels charge over those who sleep…" And in Compline, after the Psalm, there are a few short passages of scripture available to read or say. My favorite is from our gospel today, "Come to me, all who labor and are heavy-laden, and I will give you rest. Take my yoke upon you, and learn from me; for I am gentle and lowly in heart, and you will find rest for your souls. For my yoke is easy, and my burden is light." I can't think of anything more soothing to consider when heading to bed for the night, can you?
I think there is a reason that many of us remember this verse so well, because we are really tired. I mean, I don't know about you, but sometimes I wonder where the days go? There just never seem to be enough hours in the day, right? Maybe you have already heard the story of the man who began having to take work home every evening, so much so in fact that, although he was "present," he wasn't really present to his wife or his children. One night, just before going to bed, his young son asked his mother: "Why does Daddy bring work home every night so that he can't play?" His mother explained that it was because his father was behind in his work at the office. The little boy replied: "Why don't they put him in a slower group?" Sometimes I want to be put in a slower group – don't you?
And so the idea of Jesus, or anyone, calling for us to rest is appealing. Except…that isn't what he is really saying – not entirely. I mean, this is Jesus – and we have learned that just when we think we know what he is saying, we need to re-think it. This isn't an invitation from Jesus to kick up your feet and do nothing. There is a lot more going on here than that, and it starts earlier in the passage. Jesus is commenting on the burdens of ministry – that folks have what one commentator called the Goldilocks syndrome. John the Baptist people thought was too austere, and Jesus – too loose. People want something – seem to need something – especially when it comes to faith – but it has to be the perfect something and meet all their expectations for how things should go. God forbid it doesn't.
Jesus says (well, in my version anyway) "Look you'all…don't be discouraged. Heck, they ridiculed John for being crazy and way too difficult to follow – I think it might have been the locust eating thing…or maybe the wearing of camel hair. But, anyway…you'd think then they'd like me, right? But noooooooo, they just complain that I drink wine, and hang out with all the people they don't like – they think I'm too much of a party guy – I like to have fun, but that's beside the point. Look, you just can't please everybody or you won't do anything of worth your time or God's" Jesus was lamenting our basic human nature to complain. I imagine there are quite a few of my colleagues who can really relate when it comes to those who choose a church, and those who leave a church.
But the reality is, as you well know, this ministry life, this life in Christ, isn't just for folks in dog collars…it's what all of us are called to do. And Jesus is telling his disciples, and now us, that it won't be a walk in the park all the time. Then he begins to speak about burdens, rest, and yokes.
Before we go back to that, I just want to point out something. As you know, each week, there is a picture on the bulletin that is tied to the lectionary – our readings – and it is there as a form of what is called Visio Divina, or Divine Seeing. The idea is that we hope you will take this home and allow it to help you reenter into the scriptures again during the week (if you are listening to this sermon later via our podcast, you can download the bulletin off of our website). Now, if you look at it, it has an old farming yoke. In the days before modern tractors, and still in use around the world where motorized farm equipment is merely a dream, two oxen (or other animal) would be fitted into it to pull loads. Yes, sometimes a single yoke would be put on a lone animal, but this yoke was far more common, and certainly more in line with what Jesus was talking about.
So back to that moment, that iconic verse. Listen carefully to it. After laying out how difficult this life of discipleship is, Jesus tells them "Come to me, all who labor and are heavy-laden, and I will give you rest." Good so far. I mean I can feel that nap on the sofa already. But wait, he isn't done…he then says "Take my yoke upon you, and learn from me; for I am gentle and lowly in heart, and you will find rest for your souls. For my yoke is easy, and my burden is light." Wait, what?
Jesus didn't say take off your yoke and follow me – all will be easy. He said that HIS yoke would be easy, the burden light. We will still be yoked! So, why is that any better? Look again at the picture. There is the traditional two headed yoke. We are in one, but there is still another. THAT is the very image of the yoke of Christ. We don't do this discipleship stuff alone – Jesus walks alongside us – and the Holy Spirit guides us – all partnering to do the work of God. And that, my friends, makes the work easier and lighter.
To be sure, I'll be the first to tell you that this isn't easy. One of the things we forget about the imagery of clerical vestments is that the collar and the stole are symbols of that very yoke. These are symbols of being yoked to Christ. And I have to say, there is many a day when the yoke I wear seems ill suited for me – when I do not feel I am pulling my weight, not measuring up as I think God would hope.
It is at those times when I try to remember this quote: "The branch does not need to get up every morning and say to itself, "I must work hard, or there will be no grapes." The branch's power comes from staying connected to the vine. In the same way, God gives us spiritual growth as a gift, through the power of the Holy Spirit, as we connect and stay connected with Christ."[1] It is also at those times when things just seem to come to me – an email, a phone call, a pastoral visit – whatever it might be – these little gifts of grace from folks are truly gifts of God that lift me up and remind me that while I will never be the perfect priest, I am the one God called, and She will be with me – I don't do this stuff alone. Perhaps you too have experienced this – things that happen to you that are just what you needed – little bits of grace that give you strength, courage, or solace. God is speaking to you – to me – reminding us that we walk with Christ always – we never carry our burden alone.
And, there's another thing about a yoke we need to remember – it must be two equal animals yoked together, otherwise they go in a circle – the stronger one pulling ahead of the weaker one. We are partners with the Jesus, who works with us in a way that enables us to do the work we are called to do, rather than spinning in circles (unless, of course, that is what we are called to do – spinning in circles). The reality is, being yoked is all about relationship – we are in a deep and abiding partnership with Christ as we go from here into the world living the life we are called to live. THAT is what makes the burdens easier to bear. It does NOT take them away. If only it would.
That is why the first part of this passage is as important for us today as this last part. We live in a world where we want things to be formed to our expectations – even God – or at least how we engage with God – especially how this faith stuff should work. But Jesus is countering the expectation culture with something far more profound – God doesn't happen to you – God is WITH you. This discipleship thing, this living fully into the presence of God, it isn't something that is done to you, or you do alone, or that can be put into some framework of how you think it ought to go – this is something far greater, and far more meaningful than that. It's the difference between watching something happen, and participating in it. Or, perhaps looking at a glass of water – deciding it to be half full or half empty – and the fully engaged act of picking it and drinking it. Jesus is telling us that to be true to ourselves in this world – we cannot try to fit God to us, but must partner with the God that is with us all the time.
A Taoist story tells of an old man who accidentally fell into the river rapids leading to a high and dangerous waterfall. Onlookers feared for his life. Miraculously, he came out alive and unharmed downstream at the bottom of the falls. People asked him how he managed to survive. "I accommodated myself to the water, not the water to me. Without thinking, I allowed myself to be shaped by it. Plunging into the swirl, I came out with the swirl. This is how I survived."
Jesus is telling his disciples, telling us, that we need to be the swirl, or we will be swallowed up even while swimming in the shallow end of the waters. Rather than telling us to play it safe by the shore – he is inviting us to go deeper – to drop our yoke of earthly expectations and control – and pick up the yoke of authenticity, of truth, of love. To abide with him, in him, that he might abide in us, and work through us.
Jesus is giving us a new picture of God – the one that is yoked with us, the one that helps us in our work, walks alongside us in our darkest nights, helps to carry our burdens. This is sometimes not the message we want to hear. We very often want God to be the one to just fix it all – fix the broken world, fix our own brokenness. That is part of the expectation game we play – it isn't real – it is holding us back.
I was listening to the NPR show "On Being" when the host, Krista Tippet was interviewing Ramón Estévez – aka. Martin Sheen, the famous actor, who "has had another lesser-known life as a spiritual seeker and activist. He returned to a deep and joyful Catholic faith after a crisis at the height of his fame in mid-life. He's been arrested over 60 times in vigils and protests."
During the interview, he brought up the subject of prayer. And he said, "Most of us will pray when … we're in the form of a crisis, or we want something, or we feel we need something. I saw an interesting thing the other day in the paper. Somebody…was asked, where God was when 9/11 happened? Well, my response to that would have been that God was in the towers. God was present to each individual going through that horrible — facing their own death, individually and with a community. That God is present in our deepest hungers, in our worst times as well as our best."
"Come to me, all who labor and are heavy-laden, and I will
give you rest. Take my yoke upon you, and learn from me;
for I am gentle and lowly in heart, and you will find rest for
your souls. For my yoke is easy, and my burden is light."
There is so much going on in the world today – so much need – I sometimes feel it is all I preach about. And there are so many who are laboring against the injustice, oppression, and indifference of our world to the plight of God's children and our Earthly home. That work is the yoke of Christ, and yet even still, it can make anyone feel tired, worn, and frustrated from time to time. And on a personal level, most of us I think have had wonderful things happen in our life – love, marriage, births, success…and terrible things too – divorce, death, loss of home, loss of job. The difference, what sustains us, in the darker times, in our weariness, is that this is a yoke we do not bear alone, ours is a life of relationship with God – walking beside us is Jesus – the Jesus that meets us where we are – in the poor, the neglected, the outcast, the stranger – in our greatest joys and our deepest sorrows. And guiding us is the Holy Spirit.
Jesus never meant to say to anyone that being his follower meant rest, far from it. He wanted us to know that God will be our partner in our life – sharing our joys and pains, our hopes and disappointments – all of it. God doesn't take these burdens away, but helps us to bear them, to move through them, to carry us when we think we can't possibly do it anymore. But there is more…
In the teaser to the NPR show, Martin Sheen said "Piety is something you do alone. True freedom, spirituality, can only be achieved in community." Here we are given the rest from our labors – here in community – here in the Eucharist. That is why being part of a church is so important. As the body of Christ we are both receivers of the rest he gives, and the ones offering it to one another. This is what we offer one another at The Peace. The Peace isn't coffee hour – it is when we look into the eyes of our brother or sister and let them know you see them – really see them – and blessing them with the peace of Christ. Here, together, we offer one another a respite from our ministry, a place of comfort in relationship with one another through Christ.
This is not a come once a month sort of thing – drop in, grab a moment and leave. It is far more important than that if it is to mean something. Because the thing about all of this – God's partnership with us, and our partnership with one another as the Body of Christ – is that it is like any relationship. Relationship building is a process which takes time; when that time is given over to God, to one another, we are able to be vulnerable, to rest, and to love… and the relationship grows, and we grow stronger.
So I invite you all into relationship here, with Christ, and one another. You need it – if you are ever to bear the yoke of God's love from this place into this broken world. You need it – if only to lighten the load of your own brokenness.
Come.
Come and take rest…
rest for your souls.
Amen.
For the audio from the 10:30am service, click here:
[1] Herb Miller, Connecting With God: 14 Ways Churches Can Help People Grow Spiritually (Nashville: Abingdon Press, 1995), 15.
Rev. Diana L. Wilcox
Christ Church in Bloomfield & Glen Ridge
July 9, 2017
Pentecost 5 – Track 2
1st Reading – Zechariah 9:9-12
Psalm 145:8-15
2nd Reading – Romans 7:15-25a
Gospel – Matthew 11:16-19, 25-30