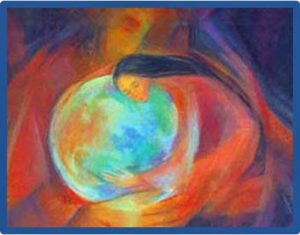 May 14, 2017: May God's words alone be spoken, may God's words alone be heard. Amen.
I want to wish all the women here a very Happy Mother's Day. I say all the women because, even if you are not a mother yourself, you are a daughter to one. But as I note every year, this is also a difficult day, or one that brings about mixed feelings, for many – those whose mother has died, or those whose mothers are absent – in whatever way that may mean, or those mothers who have lost a child, for them – Mother's Day can be troubling, awkward, or even painful. Our prayers are with them today too.
And so, that is that is why I like to think of today as less about Mothers specifically, and more about women – mothers, sisters, daughters, wives, nieces, aunts, and friends. Women who have been a part of our lives – nurturing, mentoring, loving, caring. That is what we really celebrate today – the journey of women – us, if we are women, and those women who have been a part of our lives. Because family is not defined by blood, but by one thing – loving relationship.
Now, I mentioned at the beginning of the service, today, in honor of all women everywhere, we are abandoning the all-male language for God in today's service. In the Gloria we sang "he is seated at the right hand of the Mother…" Later in our Creed we will say "I believe in one God, the Mother the almighty," and the Lord's prayer will begin "Our Mother, who art in heaven." And good grief, how many times did we hear Mother in the gospel? Think about that for a moment.
Of course, most of you know that this is how I say these prayers and creeds every week. I use all feminine language – not because I believe God is female – but precisely because I believe that God is both, and so it is a way of attempting to balance the church's use of all male language, and I always encourage others to do the same. But on Mother's Day, all of us are invited to participate in this, and to consider our own internal responses to the change. We need to do this today, and really consider the effect of our language for God, and part of the reason why came from one of our own young people.
Last year, Nadine, a child of this congregation, came up to me at coffee hour. She asked "Why isn't God a girl?" To which I responded "Who said She isn't?"
"Why isn't God a girl?"
What a question! And the church – often called the Mother church interestingly enough, has a responsibility to answer it, because from the moment he died on the cross, we have been the ones arguing over theology, Christology, pneumatology, doctrine, dogma, you name it. But one thing the church seems to have agreed upon, one common thread that unites us, is the continued perpetuation of patriarchy. The valuing of men over women as found in our language – united in our love of male dominated imagery for the divine. Somehow, I don't think that was what God was hoping for in coming to show what real love is all about.
Jesus said in the gospel today: "…Whoever has seen me has seen the Mother. How can you say, 'Show us the Mother'? Do you not believe that I am in the Mother and the Mother is in me? The words that I say to you I do not speak on my own; but the Mother who dwells in me does her works. Believe me that I am in the Mother and the Mother is in me; but if you do not, then believe me because of the works themselves…"
So, if you felt a bit uncomfortable with the gospel sounding like this, perhaps that is a good thing. It is a good thing, because it is a sign that you are hearing the repetition – the bombardment – of gender based language that little girls hear all the time. The language that creeps into our brains and makes calling God mother seem foreign to us. The language that makes our children think God is a boy.
As I said, I have encouraged folks to try joining me in using female language. But, unless somebody out there is just very quiet about it, very few, if anyone, does – not even in the easiest part to do – the Lord's prayer. I think that is part of the reason that women priests are still having to fight for equality in the church…even in the hearts and minds of those we serve. It is why so many women priests get asked "what do I call you?" or "you aren't old enough to be my mother, so I can't call you that" by the same folks who immediately call a 30yr old male priest "Father" without blinking an eye. It may seem like this shouldn't be a big deal, but let me make one thing very clear…
Language – our language – the language of our sacred texts – matters. It really matters, folks.
And so today, on Mother's Day, you will need to flip the words as I do each week, if you cannot bear to consider the feminine nature of God. But, I urge you not to, especially on the day we honor women we love. Because – God is NOT a boy's name, and to deny the feminine part of God's nature is to deny a part of our God – the very part in whose image women were created – the women we love.
You know, when I ask folks how the scriptures tell us women were created, what do they say? What do you say? Yes, usually folks say – from the rib of Adam. Well folks, that is the second version of the creation story. The first, and one might well argue the first is the most important, says "'Then God said, "Let us make humankind in our image, according to our likeness…'" So God created humankind in his image, in the image of God they were created – male and female. Yeah…how many times did you hear THAT when you were growing up? Could it be because when most of us were growing up only the voices of men were heard from the pulpit?
And it is that God, the one who created us in Her image, that is pleading with us through the scriptures to hear where She is calling us – to open our hearts to the Spirit working in, through, and around us. The same Spirit alive throughout all of history, from the beginning of time. The same Spirit that St. Stephen was filled with, spoken of in the epistle we heard this morning too. God's purpose in creating us, as we know from our sacred texts, is to be in relationship with Her, our Creator. We come to the fullness of relationship with God, because we are open to the Spirit, and live as Jesus lived. Being a child of God is being alive in God. It is an active, living, moving, relational experience, but far too often, we have allowed ourselves to become as dead as old bones…and it is killing us and the church.
A story ran a few years back in one of the magazines we clergy like to read. It said, "We occasionally hear about troublesome church members who manage to upset their congregations [I would add that there are sometime troublesome clergy too], but the people making trouble for the Abbey Church of Saint Peter and Saint Paul in Bath, England, aren't current members but those from centuries past. The people causing problems aren't the [ones] in the pews but the […ones] in the basement. And they're threatening to upset the church in a quite literal way.
The church, commonly known as Bath Abbey, is an Anglican parish. It was founded as a monastery in the seventh century and has had […] worship going on at that site ever since. The current building is a Gothic cathedral more than 500 years old, but it sits on the remains of a massive Norman cathedral that predated it. The problem is that, over the centuries, an estimated 6,000 people have been buried just below the stone flooring of the church. Over time, as those bodies were reduced to bones and as the graves settled, holes opened up beneath the floor, threatening the very stability of the building. Today, the likelihood that the floors could collapse beneath the feet of someone about to recite the Lord's Prayer on any given Sunday morning is very real and unsettling.
An extensive project is now underway to stabilize the edifice. It involves digging out much of what soil and disturbed human remains are under the floor, filling the voids with grouting and then putting that earth, human bones, bits of coffin handles and inscribed plaques, etc., back under the floor, and saying a prayer over the whole re-interment."
In other words, our faith requires that the dead be a good foundation for the living breathing church, not a holy museum to days long gone at the expense of it.
And that is what Stephen the story of Stephen is all about. He knew that Easter didn't mean an end, but a new beginning, and he was living the life Jesus called him to live – an active, engaged, and transformative life. And, it is what Jesus was calling us to be too. Stephen, our first martyr, part of the original seven deacons of the church, understood what it meant to be a part of the Jesus movement, and was out there living it. Now, some say he was stoned to death for preaching the world's longest sermon, which occurred in the chapter before this one…maybe it was an Episcopal crowd and he went past the designated 20 minute mark. The reality is though that living this life of Jesus will tend to really get under the skin of those who have power, who enjoy the status quo, who profit on the backs of others, who turn a blind eye to the poor and those without hope. I wonder if anyone can think of folks doing that today?
And Stephen had the guts to tell them that too. In the verses just before the ones we heard today where he is executed, he said "You stiff-necked people, uncircumcised in heart and ears, [I think Stephen never took the homiletical version of "how to win friends and influence people, but he continues] you are for ever opposing the Holy Spirit, just as your ancestors used to do. Which of the prophets did your ancestors not persecute? They killed those who foretold the coming of the Righteous One, and now you have become his betrayers and murderers. You are the ones that received the law as ordained by angels, and yet you have not kept it.' (Acts 7:51-53, NRSV).
No, they hadn't kept it, and sometimes, neither do we. We people of faith like to get entrenched. We like to stick our feet in the ground, and stake out a place to be the church. But the church is not a building of stones on a foundation of stone, but a building of hearts on a foundation of love! These stones, beautiful as they are, are not the church – you are the church. And being the church is also not relegated, in this life, to martyrs like Stephen, or priests, or bishops or any of the rest of it – it is YOUR life. The life that the author writes of the epistle of Peter writes about when he says:
"…Come to him, a living stone, though rejected by mortals yet chosen and precious in God's sight, and like living stones, let yourselves be built into a spiritual house, to be a holy priesthood, to offer spiritual sacrifices acceptable to God through Jesus Christ… you are a royal priesthood, a holy nation, God's own people, in order that you may proclaim the mighty acts of him who called you out of darkness into his marvelous light."
Dang! Don't you feel absolutely awesome right now!!??? Not awesome in the "I am better than anybody else" way – but awesome in the "I am so incredibly blessed to have this purpose for my life!"
You are the church! The power is in you! You are the body of Christ alive in the world today. And being that is about being Jesus – the Jesus that is alive – the One that didn't wait for folks to come to him, but sought them out – went to them – went first to those others had rejected, as he himself would be. He didn't build a synagogue in Galilee and expect folks to walk in the door – he went out to them! He found his purpose in them!
When we are born, those who raise us up do not want us to be dependent on them always – really, it's time to get out of the basement and stop playing video games already. No, in all seriousness, if they love us, they want us to live fully into that wonderful person God created us to be – and sometimes it won't be what they had in mind, but I assure you, for those who listen to the Holy Spirit it will be what God has in mind.
Jesus tells us in the gospel that if we know him, we know God. If there was ever a perfect way to describe God, and what it means to live as a child of God, it is Jesus. We are the body of Christ – him – out in the world. So that begs the question – Do people know God when they meet us? Do they know God in how we live our lives? Do we see God when we look at ourselves, our lives, our work in the world? Because that is what Jesus was saying when he said that if we know him, we know God – Mother, Father, Creator." I said earlier that family is not defined by blood, but by one thing – loving relationship. The same is true of faith. Jesus was telling us that being a child of God is being in a relationship of love – a love so powerful it calls us to share it with others.
The thing is, our faith was never meant to be a noun, but a verb – a living, breathing, dancing, loving, expecting, rejoicing, risking thing. The living stones upon which the faith of others may be built. The kind of life loving parents, loving mothers, might dream of instilling in their children in the hopes that they blossom into all they can be. The kind of life our parent, our Creator Mother, dreams for us too.
May we all build that life on the living stones of love.
Amen.
For the audio from the 10:30am service, click here:
Rev. Diana L. Wilcox
Christ Church in Bloomfield & Glen Ridge
May 14, 2017
The Fifth Sunday of Easter
1st Reading – Acts 7:55-60
Psalm 31:1-5, 15-16
2nd Reading – 1 Peter 2:2-10
Gospel – John 14:1-14