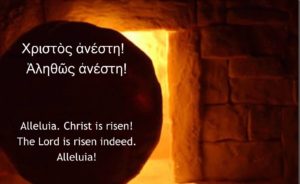 April 16, 2017 – Easter Sunday: May God's words alone be spoken, may God's words alone be heard. Amen.
Christ is risen! [He is risen indeed!]
Easter is finally here!
And you know what else is here? My free packet of wildflower seeds from the Honey Nut Cheerio company – sent to me to save the bees and butterflies.
Now, if you are here for the first time, or if this is your annual trek to church, than you might not know this from a previous sermon, but I am a terrible gardener. I do not have the touch that my friend Betsy Ginsburg has, who writes the gardening articles in our local newspaper. No, compared to her, I should probably just pour concrete over my entire yard. And yet, I approach spring gardening with the same enthusiasm that I have each year for Mets baseball – with all the belief that somehow, someway, this is going to go way differently than in years past. I mean look, we have an Easter miracle today, right? The Mets happen to be in first place! Somewhere, pigs are flying, and an ice cream store is cropping up beyond the gates of hell.
But perhaps what draws me most to gardening, besides the fact that you get to play in dirt and nobody thinks it's weird, is that you quite literally overturn earth, to bury possibility – to bury hope wrapped up in a small dead seed – cover it in darkness – and then wait. And if anything is to happen, if there is to be a miracle of new life, that earth has to be shattered. And that, my friends…that is the very story we celebrate here today.
The story of the resurrection in the Gospel of Matthew that we heard this morning is a favorite of mine. It's got all the drama of a really good Hollywood production – earthquakes, stunned guards, bright lights. It's the Motown version of the resurrection – "I feel the earth move under my feet…" And, like all the empty tomb narratives the stars of this one are women. The women who are there – the women who stand with courage, as they did in the shadow of the cross – the women who are always the first to receive the good news.
Now, if you are just tuning in to Holy Week this morning, then today may seem a bit over the top – you may seem a bit stunned like the guards by the enormity of the service. But, if you were here this past week, then you are likely standing as the women amid the earthquake and brightness of the heavenly messenger – in awe, but also drinking it all in, like one who has traveled long in the desert. Because we who have traveled this Holy Week journey have been among the dead – and we are thirsty for new life.
We began on Palm Sunday, with the Passion being performed by the Dzeici Theatre company. This was such an impactful experience. Many of you wept, as did I, and I am still processing all that happened.
And that was only the beginning of our journey together toward this moment. Our Healing Eucharist on Wednesday allowed those who came to toss into a fire symbols of the betrayals of body, mind, spirit, that had pained them – to let them go, and replace them with the water of baptism, and be marked once more with the sign of Christ's love by the healing oil of chrism. Thursday we waited with Christ in the darkness of our church, perhaps the darkness of our own lives, remembering his deep love for us, and his commandment to bear that love out into the world. And Friday we stood in the shadow of the cross, feeling the emptiness of a world where love is crucified. The doors of the church shut and locked as with the tomb.
And today – today the world is turned upside down.
That is the way it is with love.
In the early 1990s, there was a musical by the famous Andrew Lloyd Weber called "Aspects of Love." I was one of the few to see it, well, because it closed after only a year, which I think was a shame. Like every Broadway show, this one had its main musical number – the "show stopper." The second verse of it went like this:
"Love… changes everything. Days are longer, words mean more. Love… changes everything. Pain is deeper than before
Love will turn your world around, and that world will last forever.
Yes love, love changes everything – Brings you glory, brings you shame! Nothing in the world will ever be the same."
Nothing in the world will ever be the same.
The cross brought shame, the empty tomb – glory. The deep pain we felt on Friday was turned around by love. Andrew Llloyd Weber wasn't trying to talk about Jesus, but he sure ended up writing a gospel message. Love – real love – carries with it the potential for deep pain for all the same reasons we felt it in Holy Week – betrayal and death. Pain will be deeper than before, but everything will also mean more too. That's the way it is with love – so that's the way it is with Jesus too – the greatest gift of love we will ever receive. And it is a gift that will shake your foundation and rebuild it.
See, the thing about Easter is that it isn't this nice neat, wrap it up in a basket with a chocolate bunny, type of thing. Easter takes courage – because it is going to rock your world.
Being a follower of Jesus doesn't mean that life is all sweetness and light. It wasn't for his disciples, and certainly I know very few people, Christians or otherwise, who would claim that life is a bed of roses – which, not for nothing, but as a gardening metaphor for everything being wonderfully easy is a bit strange – don't you think? Because in many ways, life really IS like a bed of roses – full of incredible beauty and sweet joy – yes, but also thorny situations, pests that destroy, and painful wounds. Roses are difficult, and not for the gardener faint of heart, but the rewards for those who risk it are immense. But whether roses, or wildflowers, the earth has got to break for anything to happen.
Our faith doesn't mean that things will go smoothly for us in life. We need only look at the bombings in the Coptic Churches in Egypt on Palm Sunday to know that – and our heart and prayers go out to them. No, it doesn't mean that at all – that is not the message of Easter. The message of Easter is that amid the earthquakes, we will be as the women were that day, able to stand firmly amid the tumult, until we are able to see the light shining brightly.
The message of Easter – the essence of our Christian faith – is that there is no darkness that Christ's light will not overcome, there is not hate stronger than God's love, and death never has the last word, but always leads to new life.
"I am regularly reminded of the funeral service of Winston Churchill. Perhaps you've heard the story. At the close of the service that Churchill planned himself, a single trumpeter stood at the west end of St. Paul's Abby and sounded "Taps," the song that signals dusk and the close of another day and is frequently played at the end of a military funeral. But after a moment of stillness that followed the last plaintive note of that song, another trumpeter stood at the east end of St. Paul's, the end that faced the rising sun, and played "Reveille," the song of the morning and the call to a new day."
One of my favorite commentators said about this moment: "Churchill perceived, you see, that Christ's resurrection signals above and beyond all else that our God is a God of new life and never-ending possibility. The good news of Christ's resurrection does not take away our fear — though sometimes we wish desperately that it would — but it does offer us courage and hope by anchoring us in the sure promise that God will have the last word, and that word is one of light and life and grace and mercy and love and peace."[1]
The message of Easter is one we heard in that familiar collect read on Good Friday: "…let the whole world see and know that things which were cast down are being raised up, and things which had grown old are being made new…"
Now all of this would be awesome, just on its own. But if that were all it was – a celebration of His new life – then we miss the point. This is about us – it's about you and me – and about the other. In the weeks to come, we will hear about the disciples encounters with the risen Jesus. And if you are fortunate enough to be here to take in these stories, you will see the way in which they began to understand the truth of the resurrection – that it isn't about pointing back to something that has happened, but stepping boldly forward into what IS happening – through them – and now – through us. There is a reason Jesus didn't stay in the garden, he had to reach his disciples so that they could understand – not only the resurrection – but what it means for them and for the world. Because the resurrection of Jesus is as much about us, and them, as it is about him. Will Willimon, a pastor and prolific author, put it this way. "There are so many ways to "explain" the resurrection. The point is, we can't explain the resurrection. The resurrection explains us!"
God came into this world that we might know who we are, and what real love is, but not for ourselves alone. So, that we might become all that we were meant to be – that we might then change the world. And Lord knows, this is a world that needs us to understand this more today than perhaps ever before.
There are earthquakes happening all over the world – of violence, of poverty, of oppression. That is why we need to really pay attention to the baptismal vows we will renew today. Today we will baptize little Mia Hucks, and with her parents and Godparents, we will renew our baptismal covenant, in which we promise to seek and serve Christ in all persons, loving our neighbor as ourselves, striving for justice and peace, and respecting the dignity of every human being. This vow doesn't make exceptions – it doesn't say we are to love the loveable, to defend the needs of those who love or look or think or act or speak just like we do. That is not the radical vow that we commit to. That is not what the resurrection calls us to.
The resurrection is an earthquake moment – it changes the game – and it isn't for those who want to play it safe. Jesus didn't play it safe – and neither can we – not if our lives are to mean something – not if we want things to change.
There's a story about "the home of Paul Laurence Dunbar, noted poet, that is open to the public in Dayton, Ohio. When Dunbar died, his mother left his room exactly as it was on the day of his death. At the desk of this brilliant man was his final poem, handwritten on a pad. After his mother died, her friends discovered that Paul Laurence Dunbar's last poem had been lost forever. Because his mother had made his room into a shrine and not moved anything, the sun had bleached the ink in which the poem was written until it was invisible. The poem was gone."[2]
Jesus didn't die and live again that we might hang out in the garden, this garden we call the church, but that we would join him in the world. Our baptism commitment is to live the resurrection – to be the Jesus alive in the world today – that his message might not disappear off the page of our hearts. The Jesus that called us to love the stranger, care for the poor, visit the sick, feed the hungry is calling us now. The Jesus who left the tomb, left the garden, and changed the world is calling us to join him in this work.
In the midst of what seems dead and lifeless, the seed of hope that is born in us with Christ comes ripping up through the earth, breaking through the crusty outer seed shell to bear new life in us. It is the love that changes everything, even while breaking through the earth beneath our feet. Perhaps that is why the resurrection – that empty tomb – is in a garden. Just the place for new life to grow out of the death.
So, look out world, because we are heading out of the garden and into the streets to proclaim for all to hear that everyone, everyone is a beloved child of God – no exceptions – and no act by any human or government can ever change that reality.
There is no earthquake that can stop us, because we will just then plant in that overturned earth something new –the seeds of love, compassion, dignity, and justice. Because of Easter, today, and every day, we will proclaim the good news – that love – God's love – cannot be defeated – because this love does change everything! Because this love will turn your world around. Because this love will last forever.
Christ is alive!
Alive in us!
Nothing in this world will ever be the same!
Amen.
For the audio from the 10:30am service, click here:
[1] David Lose.
[2] Henry Simon, Belleville, Illinois.
Rev. Diana L. Wilcox
Christ Church in Bloomfield & Glen Ridge
April 16, 2017
Easter Sunday
1st Reading – Acts 10:34-43
Psalm 118:1-2, 14-24
2nd Reading – Colossians 3:1-4
Gospel – Matthew 28:1-10