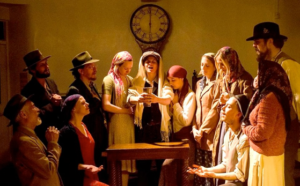 This Palm Sunday we will be blessed with an inspiring and renowned performance of Christ's passion as done by the Dzieci Theatre. They have performed this at the Cathedral of St. John the Divine (Episcopal), and churches throughout New York. This will be their New Jersey premier. The performance will be integrated into our service (there is only one service on Palm Sunday – 10:30am).
As always, we gather in the Parish Hall, and then process down Bloomfield Avenue with our palms proclaiming "Hosanna" as we enter the church. The service continues as we hear about the moment of Jesus entering Jerusalem. Then, it ends with the passion, as portrayed by the Dzieci Theatre.
Theatre Group Dzieci has refined their text from the earliest existing translations, relying heavily on the Aramaic Pashita, incorporating Hebraic song and chant, and ritual elements of Judaism, and sets their piece in the shadow of the Warsaw Ghetto. Below are reviews:
"Any corps of actors that can cause a hush to fall upon its audience, such that the angel of silence is not just flying by but is still hovering, must, as they say, be doing something right." John Osburn, TheatreScene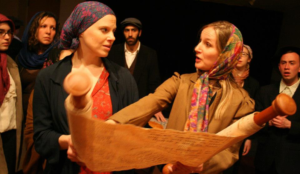 I'm 88 years old and was one of the first members of the Actors Studio and I've been to countless plays,
but I can't remember the last time I saw a performance that moved me as much as your Passion. Lenka Peterson, Bethlehem, CT
It was the most soulful Passion rite I have experienced in a church.…this time, for the first time, I was moved to tears. It was delightfully unassuming and powerful. Guissepe Manca
Palm Sunday is April 9th, so please mark it on your calendar, as this will be a unique and moving entry into Holy Week. Spread the word!!!