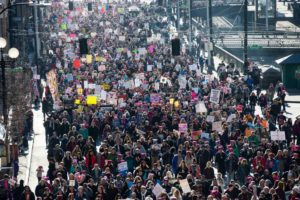 January 22, 2017: May God's words alone be spoken, may God's words alone be heard. Amen.
Well, here we are again, with this rather timely message from Isaiah, "The people who walked in darkness have seen a great light; those who lived in a land of deep darkness–on them light has shined." As I have been saying for awhile now, this is an uneasy time in our country, and in the world.
The past few days have been troubling to a great many, if not all, of our country. Some are protesting, others are not happy about the protesting, and some don't know which way to turn.
So, what does any of that have to do with us as Christians? Everything. You know, this Christian faith – it isn't for the light hearted, for the uncourageous, for those who want things to be easy all the time. And if ever there was a time to live out that faith, to be brave, it is now. Sometimes I have to keep reminding myself of that too.
Now, to be sure, I am not up here talking about one party or another – all of that is not of the church, and certainly too small for God. Politics, governments, country borders – that is of humanity, not of God. What is of God are the very real individual humans that make up humanity. People like you and me, people of faith and atheists, gay and straight people, black, white, native American, Asian, and Latino/Hispanic people, old and young people, poor and rich people, citizens and non-citizens, educated and not educated, democrats and republicans…well, everyone. That is what God cares about. That is what anyone who calls themselves a follower of Christ cares about too.
And so I was struck by something I saw or heard the past two days – folks calling for peace and unity. I understand that, I do. I think all of us want a world that is peaceful, and where we are united in a common bond – a common purpose. I think Jesus would have liked that too. But, just as it was for him, it is for us now. It is not the time for peace, at least not in the – everybody join hands and just agree to disagree going back to our daily life as though nothing happened – way of thinking about it.
It is instead a time for responding the way Jesus did.
In the gospel passage today, Jesus has heard that his friend, his cousin, and his colleague in ministry, has been arrested. And it says that he withdrew to "the territory of Zebulun and Naphtali." Then he began to proclaim "repent, for the kingdom of heaven has come near." He then saw Simon and Andrew fishing, and called to them "Follow me, and I will make you fish for people." And they did, and the passage continues with "Jesus went throughout Galilee, teaching in their synagogues and proclaiming the good news of the kingdom and curing every disease and every sickness among the people."
Now, this is one time when those bibles that have chapter headings above them do a disservice to readers, because in this case, in most bibles, it reads something like "Jesus calls the first disciples." Yeah…true…but not exactly everything, or even the most important thing, to be heard in this gospel passage. And it needs to be looked at again, in light of our current situation.
First, he goes to the territory of Zebulun and Naphtali – a place we hear about in Isaiah, and in this passage as one in darkness. These are territories that have been overrun by Assyria, Babylon, the Greeks, Rome – just about anyone with sword and a few folks to come along for the ride. They were tribes that were repeatedly victimized, suffering from foreign occupation. God's power, Jesus, withdraws to a place of the abused and oppressed – to them. And out of there, Jesus begins his ministry. And so that begs the question – What does it mean to sit in regions of shadow and death and proclaim the good news? What does it mean to be light in the midst of darkness? See – THAT is what the call to Andrew and Simon is all about, because discipleship embodies this promise.
Jesus goes to a place that has known pain, known oppression – a place of darkness, and brings his light to it. He cures "every disease and every sickness among the people." And joining him in this work, in this place of real and spiritual darkness – those who follow him. God chooses to lift up the poor, to shine a light in the darkness – in the backwater of Galilee. And it is there that Jesus calls them to "repent, for the kingdom of heaven has come near."
Well, actually – if we were translating it correctly, it would be – here. The kingdom of God is here. Think about that – what does it mean to us that Jesus is saying that the kingdom of God is here? And what does it mean to repent in light of that? We all know, if you've been coming here awhile, that repentance is NOT about beating yourself up – Jesus didn't go around beating people up, right? Repentance is about turning toward God. So, think about this…where is God in this context? Where do we face to turn to God? And, when we do, what do we see?
We see the God that is with the poor, those in darkness, the oppressed. See, this isn't only about calling disciples, it is about what discipleship means. Andrew and Simon Peter join Jesus – but join him where…where God goes – where we go if we turn to God – to those most in need of God's love. What does that say about who we are and what we are called to do? Everything. Everything.
Jesus shows us how to live in this world in relationship with God, and it isn't by standing on the sidelines, or hiding out until things get better. He knew that his radical message of inclusion, of love for all, would threaten the power structures, would make folks uncomfortable, would lead to his persecution. But he also knew that God could exist in this world in no other way. God incarnate, walking with us, could never turn from those in need to side with those who oppress, no matter the cost. And as a people baptized into Him, we cannot live any other way either. When we turn to face those who are poor, those are marginalized, those who are imprisoned, those who are sick, those who are strangers – we face God – the God who told us, who showed us, how to be in this world. And we must join Her there.
And so here we are, in a country that seems for some very much like Zebulun and Naphtali – where those who had started to emerge from the shadows of oppression and fear are feeling again that they may have to retreat into them once more.
People are in fear – fear for their lives, and their loved ones. And to be clear, those who voted for Trump, many of them were acting out of fear too. From the coal miner in West Virginia, to the naturalist in California, from the farmer in Iowa, to the machinist in Alabama, there are many who live in fear. And fear can do horrible things to those in the shadows. Some fear losing their home due to unemployment, some fear losing their health due to a lack of insurance, some fear the loss of natural habitat for wildlife and the extinction of whole species due to climate change, some fear being attacked for being Jewish, gay, trans, Muslim, black, or female, some fear being torn from their families by deportation forces. These are the modern day people of Zebulun & Naphtali.
If there was ever a time for proclaiming the good news – it is now.
If there was ever a time to go to the land of shadows and stand with them – it is now.
If there was ever a time to turn to God and see the face of the poor, the oppressed, and the forgotten – it is now.
But to be clear, there are others who fear too – they fear losing power. They are the modern-day Romans and Sanhedrin, who fear that the lifting of others out of the shadows of oppression will lessen their power – and it will. But in lessoning their power, it will free them. They can't see that, and like those who resisted Jesus, they will resist anyone who follows him into the shadows. And it is they whom we must stand firm against. Not because they are not worthy of love, in some ways, they need it more than anyone. No, we don't stand against them as human beings, but against what they do with their power. We stand with Jesus in the shadowland with the powerless.
And so, it is not surprising that many Christians are engaging in peaceful protest these past several days, and will for many to come. Unrest, protest, and fighting for the rights of others is not only our right in this country, but it is our responsibility as those who follow Christ. And as this gospel makes clear, even in the face of the persecution of John, Jesus stepped to the places others did not want to go, proclaiming the radical good news of God's love, even understanding that this was not going to go over very well with folks who wanted a neat and tidy faith, and a trouble free society.
And so to Zebulun and Naphtali we go, we stand with them, in the shadowland, and in the streets in protest.
I am not speaking here about violent protests, for violence only begets violence. But this gospel message points back to Isaiah for a whole host of reasons, and part of that is that it was a prophetic book of radical calls to anyone who would listen. And we need to listen, especially to these words from another part of Isaiah, Isaiah 58, which we hear on Ash Wednesday, a time when we consider the ways in which we have turned away from God:
God says, "Is not this the fast that I choose: to loose the bonds of injustice, to undo the thongs of the yoke, to let the oppressed go free, and to break every yoke?  Is it not to share your bread with the hungry, and bring the homeless poor into your house; when you see the naked, to cover them, and not to hide yourself from your own kin?"
You see, this is a time not unlike a few decades ago, when protest was needed in order to live out our baptismal vows. When folks like Dr. Martin Luther King, Jr., whose birthday we celebrated last Monday, and John Lewis, now a congressional representative, walked with others across the Edmund Pettis Bridge. "…they had organized a march for voting rights, from Selma, Alabama, to Montgomery, the state capital. On March 7,1965, some 600 people assembled at a downtown church, knelt briefly in prayer, and began walking silently, two-by-two through the city streets.
With Hosea Williams of the Southern Christian Leadership Conference (SCLC) leading the demonstration, and John Lewis, Chairman of the Student Nonviolent Coordinating Committee (SNCC), at his side, the marchers were stopped as they were leaving Selma, at the end of the Edmund Pettus Bridge, by some 150 Alabama state troopers, sheriff 's deputies, and possemen, who ordered the demonstrators to disperse.
One minute and five seconds after a two-minute warning was announced, the troops advanced, wielding clubs, bullwhips, and tear gas. John Lewis, who suffered a skull fracture, was one of fifty-eight people treated for injuries at the local hospital. The day is remembered in history as "Bloody Sunday."
"Bloody Sunday." I might have called it Good Friday, because God was crucified in that moment. And yet, as we know, and heard again this morning, a people in darkness will see a great light. And just like Good Friday, Easter shows us that God's light can never be extinguished – no darkness can ever overcome it. And so it was this march, with the coverage of this bloody aftermath covering the nations televisions and newspapers, that turned the tide in the fight against racism. And so it may be true today that protests, like the ones yesterday, will lead to a new life for those in fear. But none of it will happen unless we first drop our nets of complacency and follow Jesus where he leads.
You see, I think many have gotten so used to things being a bit peaceful – it's been several decades since the tumultuous 60s and 70s. Many have forgotten that our faith is grounded in one who was such a protestor that he lost his life…and we lost our way. We become uneasy in the face of protest.
I am reminded of another friend who said this on my Facebook page "…this is truly a wake up call. I have had many convictions and beliefs that I have felt compelled to pursue [or] act upon, but have failed to out of fear. I took the system for granted, and assumed the status quo would hold. I assumed that others would do what I was too afraid to. But I was wrong, and now I know that we each must play our role. Each and every piece is important, and we must remain diligent and committed. The future can be even brighter, but we – I must continue to strive for it." He's right.
We need to repent – to turn around to face God – the God in our midst, because the thing about our lives in Christ – it isn't a one and done deal. Jesus didn't finish in Zebulun and Naphtali, wipe his hands on his tunic and say – "Hey boys, got that done, now let's go for a nice vacation on a nearby shore." No, our lives in Christ are a never ending call to free the captive, to unloose the bonds of injustice, to care for the sick, the poor, the marginalized, and the forgotten of our society. So no, we cannot, as a follower of Christ, sit idly by while our fellow human beings are mocked, assaulted, marginalized, or criminalized, for who they are, or while others suffer under economic hardship – because they are beloved children of God, our brothers and sisters, and we are called to stand with them – now, tomorrow, and every single day.
You know, I was a bit distressed yesterday about not being able to march in either DC or New York. There was so much to do to prepare for our Annual Meeting. Hint – a lot of work goes into this, so please go, eat, and be a part of it after worship today (and they say that being an Episcopalian means having all the pageantry and none of the guilt – HA!). Anyway, I was distressed about it, but then I thought about my calling to this church, about how important that was, and how this is my primary ministry.
Each of you have a calling too. It is part of your baptismal covenant, and it is from here where you are able to live this out. I believe it is no accident that this church is growing (by 42% in three years!), because for those who seek relationship with God, it is here where they can find it.
It is here where everyone – and we mean everyone – is welcome.
It is here where one can find a joyous and loving congregation that nourishes the heart and soul.
It is here where the energy we feel and create in this place leads us out to follow the Spirit into the world – to meet God in the places still in shadow – to proclaim the good news of Christ.
And, it is from here, this place, this wonderful parish we call Christ Church, that we are given new life to do this work,, because it won't be easy – Jesus never said it would be.
So, I ask you to join your leadership at our parish meeting to celebrate all the good and wonderful things happening here, to talk about ways everyone can play a part in this important work we do here, and from here, and to be fed with the fellowship of your brothers and sisters.
The kingdom of God has come near – here, now.
So as we will sing in our closing hymn, "let us build a house where love can dwell…[where] the love of Christ shall end divisions" and where we "proclaim from floor to rafter – all are welcome in this place!"
Amen.
For the audio from the 10:30am service, click here:
Rev. Diana L. Wilcox
Christ Church in Bloomfield & Glen Ridge
January 22, 2017
The Third Sunday After The Epiphany
1st Reading – Isaiah 9:1-4
Psalm 27:1, 5-13
2nd Reading – 1 Corinthians 1:10-18
Gospel – Matthew 4:12-23