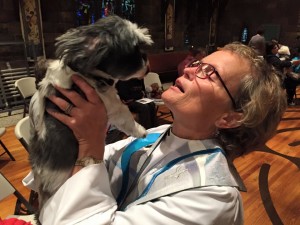 The unconditional love we give and receive from our pets can draw us more deeply into the larger circle of life with our Creator. Please bring your pets and come join us for a special blessing on Saturday, October 7th at 10am. This year, we will support both PAWS Montclair & the Bloomfield Animal Shelter, and we encourage everyone to donate to support the work that they do. You can drop a check in the offering plate, use our QR E-Giving cards in the pews to access our online donation page, or go to our website and access it there. All donations collected will be use to provide needed items for PAWS, that will be presented to them that day.
All types of critters are welcome from dogs to fish to gerbils to cats. Even stuffed animals or pictures of your pets (for those that don't travel well) can be blessed, and some have had the ashes of those who have crossed the Rainbow Bridge into heaven blessed too.
Let us celebrate the bond of creation together!