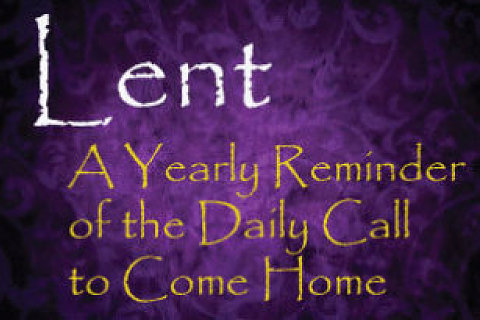 An Invitation to a Holy Lent
Dear People of God: The first Christians observed with great
devotion the days of our Lord's passion and resurrection, and
it became the custom of the Church to prepare for them by a season of penitence and fasting.
This season of Lent provided 
a time in which converts to the faith were prepared for Holy
Baptism. It was also a time when those who, because of
notorious sins, had been separated from the body of the faithful
were reconciled by penitence and forgiveness, and restored to
the fellowship of the Church. Thereby, the whole congregation
was put in mind of the message of pardon and absolution set
forth in the Gospel of our Savior, and of the need which all
Christians continually have to renew their repentance and faith.
I invite you, therefore, in the name of the Church, to the
observance of a holy Lent, by self-examination and repentance;
by prayer, fasting, and self-denial; and by reading and
meditating on God's holy Word. And, to make a right beginning
of repentance, and as a mark of our mortal nature, let us now
kneel before the Lord, our maker and redeemer. BCP 264-5
These words mark the opening of our Ash Wednesday observance. This is a time of returning to God – the true meaning of repentance.
I invite you now to begin to consider how you might walk this journey of Lent, remembering these words from Isaiah 58:
Is not this the fast that I choose:
to loose the bonds of injustice,
to undo the thongs of the yoke,
to let the oppressed go free, and to break every yoke?
Is it not to share your bread with the hungry,
and bring the homeless poor into your house;
when you see the naked, to cover them,
and not to hide yourself from your own kin?
You may decide to do a carbon fast, to spend 15min. a day in quiet reflection, to commit to an anonymous act of kindness each day, to be mindful in all that you do, or to pray every day for those on our prayer list.
Of course, giving yourself the gift of being here on Sunday for worship is the best way to move through Lent. Click here for a list of worship opportunities: Services
The choices are endless, and the way in which you choose to observe a Holy Lent will be the one that calls you into that deeper relationship with God, as we walk the path of Christ to Jerusalem. The important thing is to open your hearts, minds, and souls to this powerful season and all that is possible in this Lenten journey. I will keep all of you in prayer in the days to come.
Blessings,
Mother Diana+