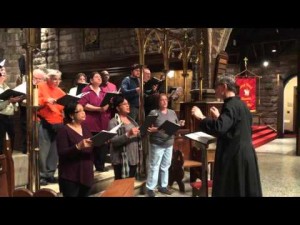 Don't miss the Choir Appreciation Sunday, when we will recognize the wonderful contributions of our choir. Be there to sing out and thank them for all that they do to "Lift Every Voice & Sing!"
Preaching will be our Director of Music, Bill Davies. Bill came to Christ Church as Director of Music in the summer of 2011. He had previously served in similar positions at St. Patrick's, Foxhall and St. Luke's, Bethesda in the Washington, DC area, and at a number of New Jersey churches, including St. George's, Maplewood and St. Mark's, Mendham. Bill studied organ with Mildred Wagner, a former Dean of the Metropolitan NJ AGO chapter, and Dr. Roy Horton, who was head of the music department at Delbarton School in Morristown. Bill's academic background includes a BA in history from Bowdoin College and an MA in theology from The Catholic University of America, where his fields of concentration included liturgical theology, in support of which he wrote a thesis on the use of hymnody in the Eucharist. Bill has taught history and served as an administrator in several independent schools. He now teaches history at The Hackley School in Tarrytown, NY.
If you are interested in joining the choir, please let Bill know by emailing him at music@christchurchepiscopal.org, or by saying hello to him after a service. Choir rehearsals for adults are on Thursday evenings at 8pm. Everyone is welcome!