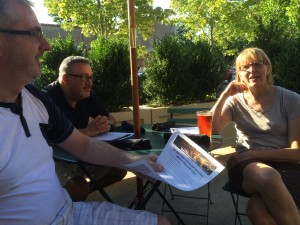 Our next ToT will be on July 20th at Fitzgerald's 1928 on Herman Street in Glen Ridge. During the summer you can find us outside on the terrace. They all start at 6pm and run to about 8pm (or whenever the Spirit moves).
About Theology on Tap: Have you ever noticed that sometimes your best and deepest theological reflections happen outside of your place of worship, when you are hanging out with friends? We have too. Our Theology on Tap has really taken off! Past topics have included "Pluralism: How can we talk about God without killing each other?", "Faith: What's that all about?", and "Why are we here?: An exploration of the meaning of our existence."
Stop by, buy a drink, and pull up a chair. Everyone is welcome – all faiths, or none at all.
You can now also find out about this event each month on MeetUp: http://www.meetup.com/Theology-on-Tap/
For directions, go to the Fitzgerald's website by clicking on this link: http://www.fitzgeralds1928.com/